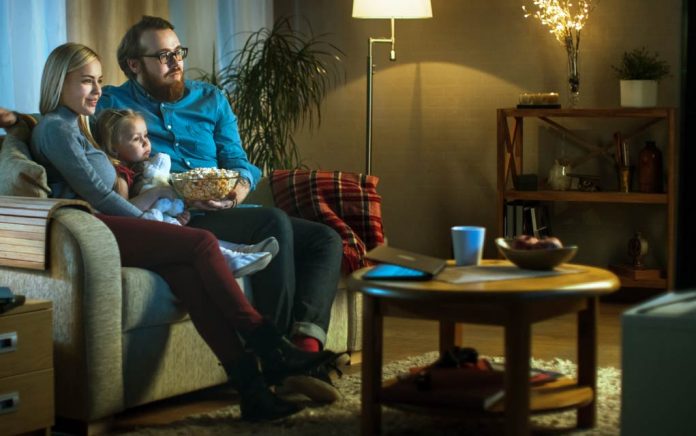 Watching television is one of the most common free-time activities amongst Americans. A study showed that Americans spend an average of up to 8 (!!!) hours watching television each day. Between live video streaming, YouTube videos, Netflix, the internet, computers, and smartphones – it's easy to lose track of all the hours.
Tune In For The Right Reasons And You'll Be a LOT Happier
A little mindless entertainment here and there can really take a load off — we're not going to guilt trip you about that… or else we'd be hypocrites. BUT! When it starts to add up it can cause some problems. Ever notice how binge watching your favorite crime or medical drama can spike your anxiety or make it harder to sleep later, or is that just me? Or does your captivating cooking show give you the munchies and then – boom – it's 3am and you're busting out the pots and pans? Ok I might have an issue, but I also know some tricks to help us all out here…
If we watch TV mindfully, it can make us happy – especially if we use it as a tool to learn or to connect with people. Alternatively, if we watch it automatically or because there isn't anything else to do – it can be an energy and time-suck that leaves us without any added value to our lives. Here's how to be a little more mindful about your TV time so it can leave you with some lasting benefits:
Watch TV with Someone Else
As humans we are wired for connectivity – we simply enjoy activities more when we're with other people. Ok, maybe our serious introvert friends would rather be alone while they watch TV, but when we watch with our friends or family, it can make things seem funnier than normal. Use TV as an excuse to get together with friends and family – and to even celebrate. Reality TV (The Bachelor, American Idol), sporting events (The Olympics), award shows (The Oscars), comedy (Saturday Night Live), and special events (the finale of your favorite show) can all be more fun to watch with other people. The group commentary alone brings refreshing life to the TV watching experience.
Watch TV as a Tool
The best way to bust any TV watching guilt is to use the TV as a tool to better yourself. For example, it can be hard to workout! Why not distract your mind by watching something funny as you burn those calories. Watching from a treadmill or while doing some sort of physical activity passes the time quickly. What about eating? Watch a cooking show while you prepare your food. Or a documentary while you take a break from studying a related subject. TV can be a great tool to engage the mind and to learn – or simply to take an intentional brain break. Remember, it's not bad to watch TV. It can be bad though when it's mindless and empty for long periods of time.
About binge watching — how about diving deeper into YouTube tutorials on a new hobby you want to learn about (my favorite are Bob Ross's fun tutorials on oil painting!) instead of watching Game of Thrones reruns… again? You could spend hours doing this, and you could finish with a new skill or knowledge on something super cool!
Use TV as a Bridge
Not getting along with someone or having trouble connecting – maybe with a significant other or a teenager, for example – try watching TV with them. It doesn't have to be your favorite thing to watch. If it makes them happy – you simply being there helps them feel connected to you in a companionable way. It allows the two of you to create positive space that is undemanding and pleasant. Why not throw in some popcorn or extra treats to make things a little more festive and fun while mending those fences?
Use TV for Soothing Ambiance or Background
Sometimes it's just nice to have some background noise, or music if your TV has the music channels. If you have a smart tv –  fancy, fancy… Maybe you can access YouTube and play your favorite videos, or use Netflix or Hulu's videos of nature or fireplaces with soothing music. Turning your TV into a digital fireplace, aquarium, or piece of art can be fun and relaxing, too. It'll instantly feel more cozy, homey, and relaxing…
Tell us which tip is most applicable to you – any other ideas?!