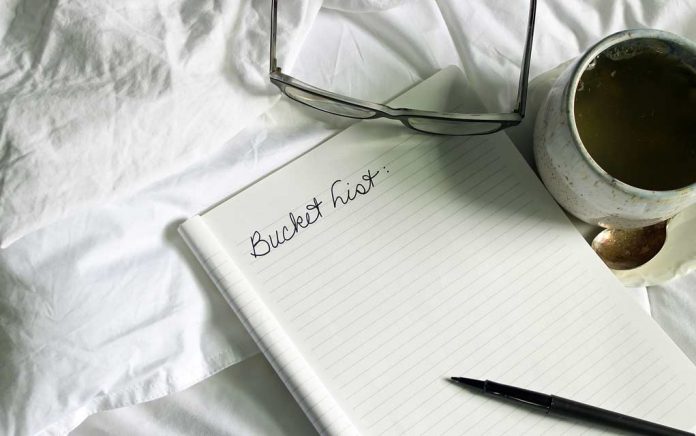 (HappierDaily.com) – Reverse Bucket Lists Are Maybe Even Better Than Regular Bucket Lists…
Some people find that celebrating and reminiscing on what has made them feel happier in their lifetime can be even better than completing any bucket list.
Related Article: 2 Things That Used to Block My Happiness Every Day
How It's Done:
A reverse bucket list can be done a few ways, but one great way to start is by writing down all the things you've already accomplished and feel really proud about. By writing down what you hope to achieve in the future, you're just adding to the list of things you expect yourself to do, and it can cause some undue stress. The best part about a reverse bucket list is that you don't have to go out and do anything! Just enjoy how good it feels to relive your happy highs.
No matter what stage in life you're at, you can do a "reverse bucket list" for an instant dose of happiness and tap into feelings of more overall satisfaction with life.
These experiences were real, they happened. They are not fantasy, and maybe if they once were, recognize what an accomplishment it was to be able to mark that off of the things you wanted to experience in life. So cool! You have our permission to brag, to boast, (and for the sake of rhyme) to make yourself a personal toast. It's well deserved.
Extra Perks
How often do we celebrate ourselves as adults? When we were kids, we had birthday parties thrown for us to acknowledge the gift of our existence. Many people stop celebrating their birthdays publicly once they reach a certain age, and just go through the motions of "being an adult". But we need to be celebrated, even if it's just in our own heart and mind.
For more inspiration on reverse bucket listing, see this post.
What is something you are proud about accomplishing in your lifetime? Go ahead, nothing is too simple, or too grand. We want to hear it all!
Copyright 2020, HappierDaily.com