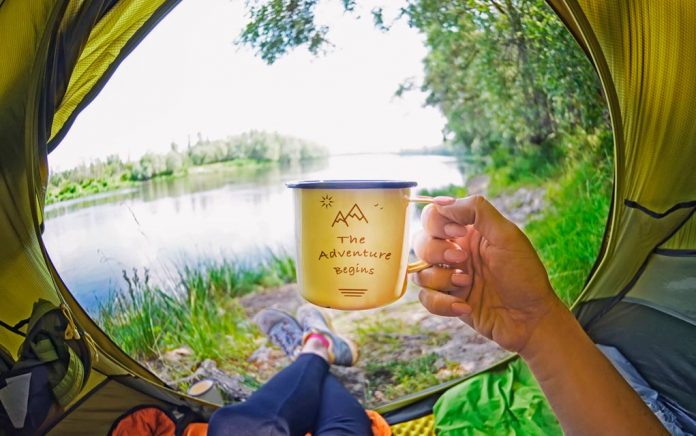 It's equal parts brilliant and insane. These sleep-away camps for adults are designed to free your inner child. They take everything you loved about summer camp as kid and make it way cooler. They've got the cabins, arts and crafts, bonfires, lake activities – all of it – but now that you're older, things can get much more interesting…
Why Go To Camp?
Historically, camp is a place you never have to worry about what other people think about you. By its very nature, camp is stress free — even for adults. If that's not reason enough, you also get to disconnect from the Facebook friends, make friends face to face, and do all kinds of once-in-a-lifetime outdoor activities.
These popular adult camps are for adults of any age and are located all over:
Camp Throwback
One of the original sleep-away camps created for adults back in 2013, Camp Throwback, describes themselves best: "Everyone remembers summer camp, where memories were made, third bases were stolen, and friendship bracelets were exchanged. Wouldn't it be great to re-experience all the camp moments you loved as a kid, now that you're legally allowed to drink and light things on fire? OH WAIT, YOU TOTALLY CAN!" says Camp Throwback. This one comes with lots of booze and good times around the campfire, complete with a drunken field day at this scenic setting of Ohio's Camp Graham.
Camp No Counselors
With a tagline like, "Escape To Happiness", Camp No Counselors is speaking our language – we'll take some of that, please. They've got themed parties, open bars, every camp activity you can think of, plus some killer water sports – yes, giant slip and slides included. As seen on ABC's Shark Tank, they have 2-3 day camp offerings year round — even from Dec 26-Jan 1st as a festive way to bond with others when family may not be an option. Why not form your own family during the holidays, right?
Soul Camp
Yet another adult camp tagline calling to us, is "Discover More Happy" at Soul Camp in New York or California. This one has no alcohol, and is more like a wellness retreat appealing to the spiritual camper. It's the perfect place to pause and recharge as you journey inward. Packed with all the fun amenities of the typical dream camp experience, you have the added bonus of meeting a soul family with teachers that will be mentors for the rest of your life. They want you to discover a happier life at Soul Camp where a restorative adventure begins.
Themed Options
Have more specific hobbies and interests? A themed camp might be more your style. "It's Never Too Late To Have A Happy Childhood" at circus and performing arts Camp Winnarainbow. Thought you were too old for space camp? Think again! Adult Space Academy is a two-night weekend experience where trainees assume roles in hands-on, interactive space missions and learn what it takes to be an astronaut. Grape Camp in Sonoma, County Ca is a three day camp that allows campers to learn the history of winemaking while picking grapes and sampling wine from the winery tours. Prepare yourself for any disaster at Zombie Survival Camp. Or geek out at Epic Nerd Camp – we highly recommend you check out the site to fully appreciate the magic of this sci-fi, gaming, and fantasy camp for learning "hero" skills.
Don't see your favorites on this list? Let us know your faves in the comment section below: