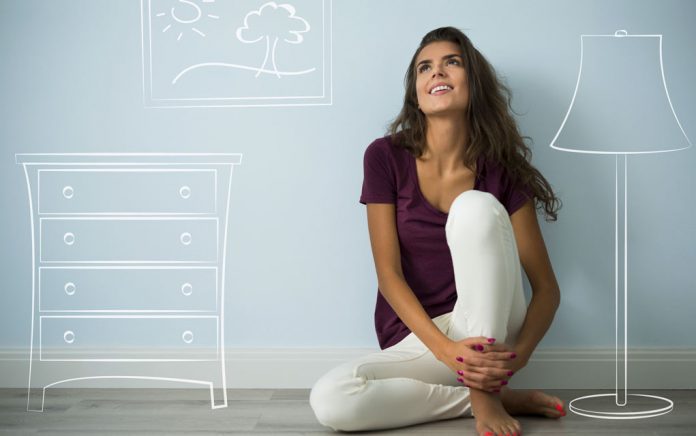 (HappierDaily.com) – There's a reason realtors are obsessed with location. Your surroundings play a huge role in your overall quality of life, especially the rooms in which you spend the majority of your down time. Just as people choose neighborhoods that match their lifestyles and make them feel happy and safe, your indoor spaces should meet your daily needs and make you feel comfortable and relaxed.
Unfortunately, if your house is cluttered, dark, or just doesn't feel like you, everyday tasks will be more draining and relaxation will feel more difficult. Try out these six common tricks in your own home to make every day a little happier.
1. Pick a calming color palette.
Different colors appeal to different people, so there's no hard and fast rule about using certain hues in your space. However, you may want to research the psychological effects of your favorite color, especially if it completely dominates your office or living area. Blues and greens – the cool colors of natural landscapes – are the safest bet for a room you use frequently, because they're calming but versatile. Lighter shades will even make rooms feel larger and more natural.
2. Maximize your lighting with mirrors (and more).
Sunlight delivers essential nutrients to your body and brain, so make sure you're making the most of this natural resource. Position your furniture toward windows and angle mirrors across from them, being careful not to block light flow with big or bulky pieces. Glass tabletops, desktops, and shelves let light pass through them, so consider these transparent surfaces in small or cramped rooms.
3. Experiment with essential oils.
Natural oils have been used to boost moods for more than a millennia. Orange, sandalwood, cinnamon, and jasmine are just a few examples of the plant-derived oils with joyful properties. Now, it's easier than ever to infuse your home with the essence of a "happy" oil. Buy a simple diffuser that converts water and a few drops of oil into cool, calming vapors. Some plug-in diffusers even have LED lights that change colors, elevating your lighting and color choices too.
4. Ditch everything you don't need or want.
Clutter isn't just a visual eyesore. It's also a psychological distraction, weighing you down with the constant sight of unfinished to-do's. Instead of letting piles of stuff get in the way, spend a weekend clearing out everything you don't need. Throw away your junk mail, donate clothes that don't fit, and reconsider all those rarely used items that are taking up precious storage space. If you have multiple cabinets and closets, you might be surprised at how much useful junk is filling them up. Once it's gone, it will be easier to keep your life organized.
5. Surround yourself with your favorite faces.
Smartphones make it easy to capture and access photos of all your favorite people. But don't forget about the power of physical copies! It's worth the time and money to print copies of your best photos and frame them. Keep your halls and mantle up-to-date with photos of your most recent vacations, and rotate several snapshots of cherished childhood too. If your displays are constantly changing and all your friends and family are included, your home will feel more cozy and alive every day.
6. Treat yourself to a sweet retreat.
Your bedroom is where the most important action goes down: sleep. Your emotional and physical health depend on the quality and quantity of your sleep. If you want to wake up in a good mood and fall asleep comfortably at night, you'll need a supportive mattress and sheets with a decent thread count. Mail-order memory foam mattresses are surprisingly affordable, so it's possible to get a good night's sleep on almost any budget. Just make your bed a priority.
Do you live in a house… or thrive in a cozy home? If you're short on inspiration during the day, your surroundings might be getting in the way. Incorporate these tips into your favorite spaces to make each room feel more inviting, but don't forget to insert your personality too. When you take pride in a room that reflects you, you might just find it easier to take pride in your own accomplishments too.
Copyright 2020, HappierDaily.com